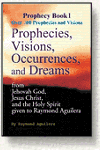 Christian Non-Denominational * End Time Prophecy Ministry
ProphecyLink.com
A Branch of Prophecy.org sm
We, at Prophecy.org sm and ProphecyLink.com, are here to help you place your Prophecies, Visions, Dreams, Occurrences and website Links for the world to see. We know that the Lord is giving many Prophecies to people, and they do not have the opportunity to share through the internet what the Lord Jesus Christ is saying to them. We are going to cover your expenses, so you can place your information on the web in order for the world to hear the Lord. This is also a place where you can read what other Brothers and Sisters are hearing from Jesus.
Other Links
My Son's Website - Steven Aguilera Webpage Designer Click here =>
---